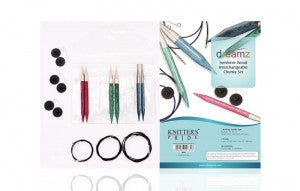 Knitter's Pride Dreamz Chunky Interchangeable Set
Knitter's Pride Dreamz Chunky Interchangeable Set
$ 44.00
(Originally was )
Set of 3 needle pairs & accessories. US 13 (9.0mm) - Fuchsia Fan, US 15 (10.0mm) - Aquamarine, US 17 (12.0mm) - Burgundy Rose.
In Clear Vinyl Case containing 2 Cords (to make 24" & 32") 4 End caps, 2 Cord keys.
Set includes needles and cords in the three most popular large sizes for knitting thick yarns. Lightweight, strong & durable Radiantly fun colors. Perfect points, flawlessly tapered - ideal for all yarns and every project. Easy to connect cords with a smooth join that enables stitches to glide easily with no snag! Resilient, flexible cords lay flat, with no kink or twist easy to store. Polished wood surface works effortlessly with every type of yarn without slowing down knitting rhythm. Comes in a clear vinyl pouch with 3 needle pockets to hold the tips.
Shipping:
US Customers: Flat rate shipping $6.95
Free shipping on orders over $125 for in-stock merchandise only.