March 29, 2014
This article was sent to us by one of our wonderful Nitro Knitter customers.  More reasons to keep on knitting and crocheting!!
(CNN) -- Her brother's sudden death in 2004 hit Sarah Huerta hard.
In the years that followed, Huerta couldn't leave the house without suffering a panic attack. She hated getting in cars since her brother's body was found in one. She couldn't seem to hold down a job. Every time she stepped outside she felt disaster closing in.
Her physician diagnosed her with post-traumatic stress disorder and extreme anxiety.
Her husband gave her knitting needles.
Huerta was skeptical at first. Knitting seemed silly -- and difficult for hands she could never seem to keep still. But as she learned to knit and purl, hours melted away. She realized she was no longer focusing on the future, imagining catastrophic things happening to her loved ones.
"That's when I seriously started crafting," Huerta said.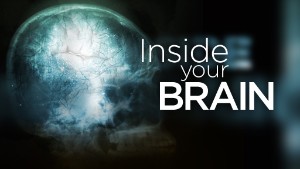 This story is part of CNN Health's "Inside Your Brain" series.
Crafting can help those who suffer from anxiety, depression or chronic pain, experts say. It may also ease stress, increase happiness and protect the brain from damage caused by aging.
Little research has been done specifically on crafting, but neuroscientists are beginning to see how studies on cognitive activities such as doing crossword puzzles might also apply to someone who does complex quilting patterns. Others are drawing connections between the mental health benefits of meditation and the zen reached while painting or sculpting.
"There's promising evidence coming out to support what a lot of crafters have known anecdotally for quite some time," says Catherine Carey Levisay, a clinical neuropsychologist and wife of Craftsy.comCEO John Levisay. "And that's that creating -- whether it be through art, music, cooking, quilting, sewing, drawing, photography (or) cake decorating -- is beneficial to us in a number of important ways."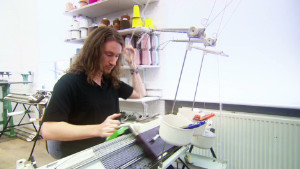 Designer Mark Fast makes knitting 'sexy'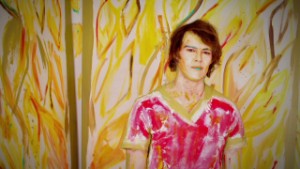 When paintings come to life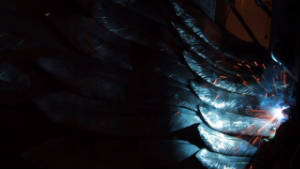 Wings for the fallen: 9/11 in metal
Effects similar to meditation
Even today, years after Huerta first learned to knit, she finds she can lose herself for hours in a tricky pattern.
Psychologist Mihaly Csikszentmihalyi first described this phenomenon as flow: a few moments in time when you are so completely absorbed by an activity that nothing else seems to matter. Flow, Csikszentmihalyi says, is the secret to happiness -- a statement he supports with decades of research.
"When we are involved in (creativity), we feel that we are living more fully than during the rest of life," Csikszentmihalyi said during a TED talk in 2004. "You know that what you need to do is possible to do, even though difficult, and sense of time disappears. You forget yourself. You feel part of something larger."
Our nervous system is only capable of processing a certain amount of information at a time, he explains. That's why you can't listen and understand two people who are talking to you at once. So when someone starts creating, his existence outside that activity becomes "temporarily suspended."
"He doesn't have enough attention left over to monitor how his body feels, or his problems at home. He can't feel if he's hungry or tired. His body disappears."
The effects of flow are similar to those of meditation, says occupational therapist Victoria Schindler. Science has shown meditation can, among other things, reduce stress and fight inflammation.
Our bodies are in a constant state of stress because our brain can't tell the difference between an upcoming meeting with the boss and an upcoming bear attack, Schindler says. The repetitive motions of knitting, for example, activate the parasympathetic nervous system, which quiets that "fight or flight" response.
In a 2007 paper "The neurological basis of occupation," Schindler and co-author Sharon Gutman argue that patients could learn to use activities such as drawing or painting to elicit flow, which would offer a nonpharmaceutical way to regulate strong emotions such as anger or prevent irrational thoughts.
"Flow could potentially help patients to dampen internal chaos," they write.
A natural anti-depressant
The reward center in your brain releases a neurotransmitter called dopamine when you do something pleasurable. Scientists believe dopamine was originally designed to make us repeat activities that would help the species survive, such as eating and having sex. Over time, we've evolved so that the brain can also release dopamine while we're staining glass or decorating a cake.
No more 'buts': Do what makes you happy
"Dopamine, in and of itself, is our natural anti-depressant," Levisay says. "Any time we can find a nonmedicinal way to stimulate that reward center ... the better off we're going to be."
There's survey evidence to support crafting's dopamine effect. In one study of more than 3,500 knitters, published in The British Journal of Occupational Therapy, 81% of respondents with depression reported feeling happy after knitting. More than half reported feeling "very happy."
And crafting's reward goes far beyond creation. Seeing the finished product adorning your walls -- or receiving praise from a loved one -- can offer repeated hits of that feel-good chemical.
Crafting also improves our self-efficacy, Levisay says, or how we feel about performing particular tasks. Psychologists believe a strong sense of self-efficacy is key to how we approach new challenges and overcome disappointments in life. So realizing you can, in fact, crochet a sweater for your nephew can help you tackle the next big paper your teacher assigns.
Creative activities may protect against aging
More than 35 million people worldwide live with dementia today. By 2050, that number is expected to more than triple, and experts are racing to find ways to protect the brain from this debilitating condition.
Neuroscientists used to believe that the brain was a static organ, says Levisay, and that once it was fully developed in your 20s, all you could do was lose power. But research has shown more recently that our brains are flexible and can adapt to their environment, even in old age -- a concept called neuroplasticity.
The evidence to support this concept is overwhelming. Studies have found intellectually stimulating activities, such as learning a new language, can help prevent cerebral atrophy and significantly delay dementia. And a recently published clinical trial shows cognitive training can improve reasoning skills and the brain's processing speed for up to 10 years after said training has been completed.
"The natural next step is to study other activities -- not just memory, cognitive tests," Levisay says. "What about crafting activities? Something people do naturally because they're enjoyable."
Crafting is also unique, Levisay says, in its ability to involve many different areas of your brain. It can work your memory and attention span while involving your visuospatial processing, creative side and problem-solving abilities.
Scientists are beginning to study leisure activities' impact on the brain. Playing games, reading books and crafting could reduce your chances of developing mild cognitive impairment by 30% to 50%, according to a 2011 study published in The Journal of Neuropsychiatry.
"The hypothesis is that the more stimulating your environment is ... the more you're increasing the complexity of the brain, the more you can afford to lose," Levisay says. "You're building a buffer."
XX
---
March 10, 2014
This article was written by Katherine Martinko in Tree Hugger.  Enjoy!
Last month I wrote an article called "Why bother knitting a scarf?" Much to my surprise, I received thousands of positive reactions from readers who share my love of homemade, local, and beautiful "slow fashion" items. Clearly, knitting is being embraced by people from all walks of life who benefit from its peaceful, relaxing repetition. It got me wondering – what's really going on when people knit? Why is it so tremendously popular?
It turns out that knitting has incredible health benefits. It makes people feel good in just about every way. A bit of research has revealed a wide range of ways in which knitting helps humans cope, physically and mentally.
1. Knitting is used for therapy. It's a powerful distractant, helping people manage long-term physical pain. For those who are depressed, knitting can motivate them to connect with the world. It is a conversation starter, allowing people to interact politely without making eye contact. It builds confidence and self-esteem.
2. Knitting is supremely relaxing, which is extremely important for reducing stress and anxiety. Dr. Herbert Benson, founder of Harvard's Mind/Body Medical Institute, wrote The Relaxation Response, in which he recommends the repetition of a word, sound, phrase, prayer, or muscular activity to elicit "the relaxation response" – decreased heart rate, muscle tension, and blood pressure. Knitting is likened to meditation, sometimes described by knitters as "spiritual" and "Zen-like."
3. Knitting connects people. By joining a knitting group, a solitary activity turns into a social one. One study, called "The Benefits of Knitting for Personal and Social Wellbeing in Adulthood" and published in the British Journal of Occupational Therapy, found that "knitting in a group impacted significantly on perceived happiness, improved social contact, and communication with others."
4. Knitting improves concentration and can provide an outlet for excessive energy. Toronto teacher Caleigh Murtaugh started a knitting club for 7- and 8-year-olds at a private boys' school. It was a smashing success, with boys opting to stay in from recess to work on projects. Some were extremely hyper, but focusing on work with their hands helped them greatly and gave them a sense of accomplishment.
5. Knitting can reduce the risk of dementia. One study of over 2,000 seniors (65 years and older) found that "regular participation in social or leisure activities such as traveling, odd jobs, knitting, or gardening were associated with a lower risk of subsequent dementia."
6. Knitting offers a break from busy schedules and a refreshing detox from a technology-saturated world. It gives many of us a rare chance to be alone with our thoughts.
7. Knitting makes people happy, from the people who knit to those who receive knitted items, and those who see knitting in their surroundings. Consider the popularity of "yarn-bombing," the beautiful graffiti that uses yarn to decorate public spaces, filling them with happiness-inducing warmth and colour. No one can resist smiling at the sight of a knitted bus or tree!
Even professionals are catching on. Stitchlinks is a UK-based group that's developing a network of knitting therapy groups in hospitals, GP practices, schools, workplaces, and care facilities. Its website states, "Therapeutic knitting [is] being formally acknowledged by leading clinicians and academics for [its] benefits in mainstream healthcare."
Keep at it, all you knitters! Not only are you having fun, but you're also knitting yourselves a happier, healthier life.
---
February 06, 2014
Thanks to all of you that came out Valentine's Day weekend for our Grand Opening festivities!  We are so excited to be part of the knitting community and appreciate all the support we have received from our family of knitters.
---
January 22, 2014
Knitting – once considered a necessary cost-saving domestic chore, a sign of sedentary dotage (something only for grannies) and an activity to keep women's hands busy lest their pretty heads entertain too many revolutionary thoughts – is casting off its cultural baggage.
These days, knitting has become a DIY fashion statement, community activity, educational device, health-care tool (the "new yoga") and new form of urban graffiti. (Okay, that last one has to be explained right away: Yarnbombing is an underground global movement by people calling themselves "guerrilla knitters." They cover items such as buses, parking meters, telephone poles, trees, doors, benches – anything in the public realm – with colourful yarn as an act of feel-good community coziness. In fact, International Yarnbombing Day, an annual event, was started by Joann Matvichuk, a knitter and crocheter from Lethbridge, Alta., on June 11, 2011.)
"It's about bloody time," Kaffe Fassett, the celebrated American-born textile artist, laughs about the resurgence of interest in knitting. "It has taken people a long time," he adds over the phone from his studio in London, England, "to appreciate that sitting down and rubbing two sticks together with a string of yarn between them not only creates something beautiful and truly creative, but is one of the most life-enhancing activities around. It just makes you feel good." Fassett, 76, is the author of more than 30 books on quilting, knitting and embroidery; his work in those media has been exhibited around the world. Fassett has knit "everything from the tiniest little scarf for a teddy bear to huge hand-knit drapes featuring colourful fantasy maps of the world." Lauren Bacall, Barbra Streisand, Candice Bergen and Princess Michael of Kent are a few of the people who have commissioned custom-knit clothing from him.
---